By Greg L | 22 April 2009 | Humor & Satire | 23 Comments
In honor of "Earth Day" (or Lenin's birthday, if you prefer) I invite you to enjoy the above video of some members of Earth First. Maybe we can all shed tears in remembrance of all of the horrible things that the human race has visited on Mother Gaia. The designated moment to atone for the sins of the human race upon our planet has been designated as 8:59PM this evening, sponsored by Esurance.com and Nickelodeon.  Following the observance, American Idol will symbolically lower their stage lighting during vocal performances.
For a limited time, each $5 donation to this blog will receive one Carbon Debit, which includes the following:
A personalized email thanking you for offsetting a carbon credit, suitable for printing and framing.
An email sent on your behalf to Al Gore and President Obama, notifying him of your civic-mindedness.
Photos of one tree being removed in your name which will be employed in a fireplace this upcoming winter to reduce our dependence on foreign oil.
Do your part, and make a member of Earth First cry on this anniversary of their prophet, Vladimir Lenin.
H/T: UCV
UPDATE: Looks like a few others are piling on as well:
Well, here are some self-worthy ideas that you can do to make the Earth live a bit longer. I know my efforts added another 12 seconds to man's existence.

1) Take extra long steps so that the steps/CO2 ratio increases thus reducing the overall amount of CO2 produced per step you take.

2) Quit your job. That way you don't have to drive to work using that human-killing car.

3) Lose that 400 pounds of extra weight you accumulated last Christmas. Your intake causes starving children in Darfur.

4) Hold every other breath. See Suggestion 1 as explanation.
Cavalcade of Conflictedness, writing Got A Kid?? Send Him To Bed Before Nine Tonight or Al Gore Will Eat Him:
You want kids, who today have the attention span of a retarded fruit fly, to unplug their Gameboys and Wii's for ONE FREAKING MINUTE? Who really gives a flying crap about turning off your game for 60 seconds? And like kids will remember to do that. They will already be too mesmerized by the toxic glow of Guitar Hero to remember to do it. And, Fox is right, shouldn't these little brats be in bed or reading or …OMG….spending time with their families rather than pecking away on a game controller?
Virginia Virtucon chimes in with this:
So, why don't I celebrate "Earth Day"?  I have two main reasons.  First and foremost, I believe that most of the environmentalists behind it come from the far-left preservationist school of thought, so there is a fundamental disagreement over what the ultimate goals are.  The Sierra Club, the Environmental Defense Fund, Greenpeace and others (you know, the Algore-types) are always the first ones to file lawsuits to stop practically any new development.  They use the guise of "smart growth" to promote their true agenda of "no growth."  (See the humor site "The People's Cube" for its depiction of "Earth Day.")

Second, "Earth Day" is nothing more than something that makes people feel good without, for the most part, actually accomplishing anything substantive.  Think about it.  Before you recycle that next newspaper or aluminum can, ask yourself whether you are actually conserving resources by doing so or if you are just making yourself feel good.
While the venerable Tertium Quids notes:
As today is the birthday of one of the great monsters of history, V.I. Lenin, I'll avoid the all-too-easy comparisons with earth day and instead point you to this Style Weekly piece where the president of the Virginia Commonwealth University chapter of the International Students for Social Equality discusses whether Mr. Obama is a socialist.
Finally, the People's Cube demystifies the connection between Earth Day and Lenin's Birthday in 2005, but few seemed to notice:
Apart from raising our awareness about capitalism as the source of the world's troubles, Earth Day is a celebration of uncompensated collective work for the Greater Good. Thus both Earth Day and Subbotnik [Lenin's Birthday] coincided on so many levels that it was only logical to combine them into one holiday. The Left had already taken over the environmental movement in the past, now they took over Earth Day and turned it into a communist holiday. That was not so hard to do, considering that international progressive movements own the American mass media and educational establishments.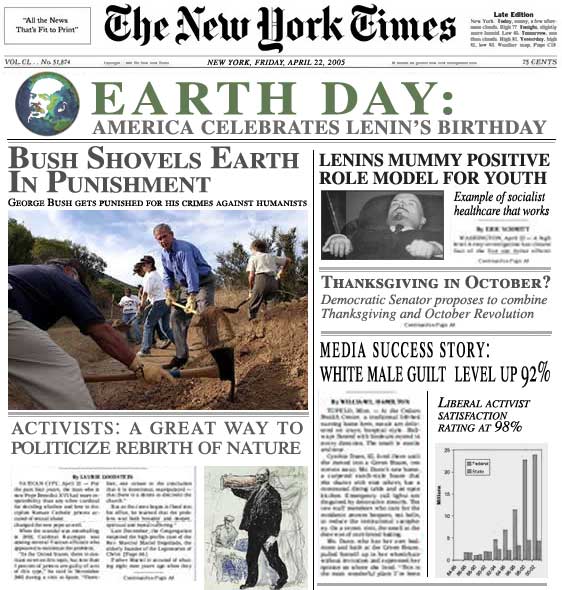 Their entry for this year is equally informative, complete with Obama and the Missus diligently shoveling in observance of Subbotnik.  The more things change…
Death to political correctness!
Tweet This
The opinions expressed here are solely the views of the author, and not representative of the position of any organization, political party, doughnut shop, knitting guild, or waste recycling facility, but may be correctly attributed to the Vast Right-Wing Conspiracy. If anything in the above article has offended you, please click here to receive an immediate apology.
You can follow the discussion through the Comments feed. You can also pingback or trackback from your own site.
23 Comments
Views: 2198