By Greg L | 6 January 2015 | Schools, Humor & Satire, Prince William County | 3 Comments
Somehow I think the apology that briefly appeared on the PWCS website, attributed to unnamed "hackers" who might have been PWCS students, was a more apt and honest apology than the one officially made after the utter disaster of a decision to keep schools open on a normal schedule on January 6th.  You be the judge - who knows how best to craft an apology, the folks taxpayers fund at north of six figures a year to squat in the Kelly "Taj Mahal" Building, or some spelling-challenged adolescents that somehow believe that "fuckery" is part of the English language?
First, here's the official announcement:
We apologize for the weather-related complications this morning. Multiple PWCS staff were on duty monitoring the weather and roads throughout the night and into the early-morning hours. Based upon this information, we decided to keep schools open. At that point in time, multiple weather forecasts only called for a small accumulation of snow—up to one inch. The national weather forecast changed at 7:01 a.m. to 2–4 inches of snow, and again at 9:03 a.m. bringing the forecast up to 4–6 inches. Unfortunately, this was logistically too late to reverse course on the decision.

In order to provide SACC services and to give the needed time to VDOT and our own PWCS crews to plow roads and parking lots, there won't be an early release. The School Division will close on-time; however, all after school and evening activities are canceled including Night School, GED, and Adult Education classes. SACC will close at 5 p.m.

Thank you for your patience. We sincerely apologize for the difficulties caused by the weather this morning.
Sure, blame somebody else, especially if you can avoid having to name anyone, but for heaven's sake, don't ever actually acknowledge responsibility for a decision or recognize the impact it had on other people's lives. I suspect that everyone in the political realm went to the same brain-dead-stupid public relations course that Joe Morrissey must have attended, since I haven't seen an honest apology from a public official in years.
Next, here's what briefly appeared, most certainly from an unauthorized source: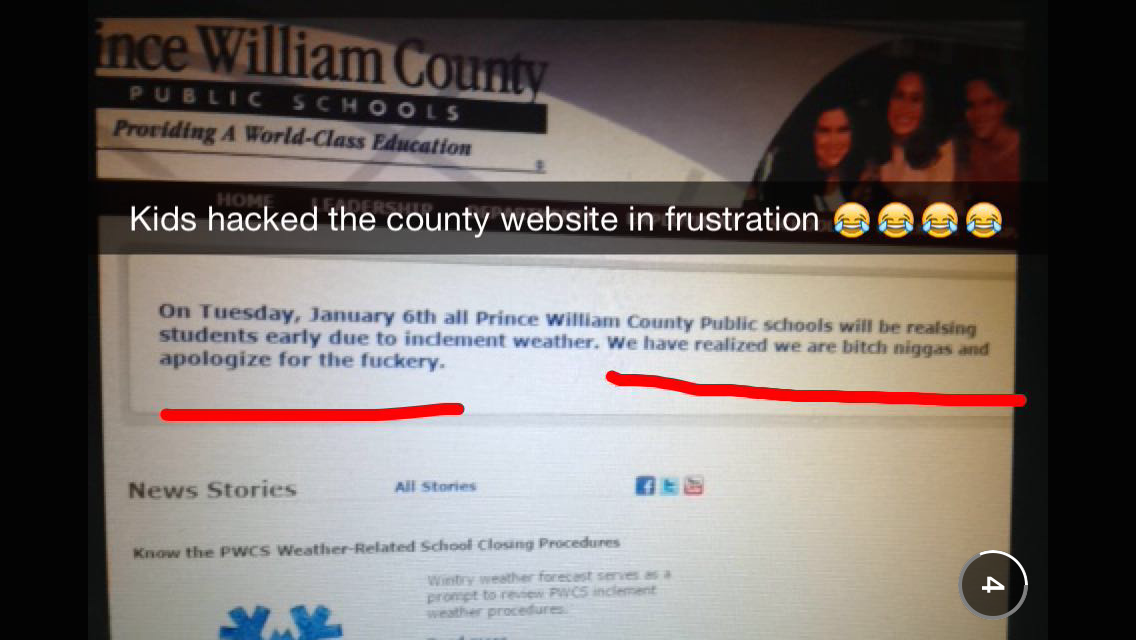 Transcription: On Tuesday, January 6th all Prince William County Public Schools will be realsing students early due to inclement weather. We have realized we are bitch niggas and apologize for the fuckery.
I suppose whatever they said was better than copy/pasting what Fairfax County Schools sent out, which was the astonishing decision of Loudoun County Public Schools.  Still, I think the leadership at the Kelly Building could learn a thing or two from the kids that they're supposedly teaching.  Those kids at least know what a real apology looks like, even if they are a bit uncertain as to how one might be precisely crafted, word-wise.
De minimus, there's at least a mea culpa in there, as inelegant as it might be.  It takes a wise and humble man to admit his mistakes, putting into serious question who actually is the master and which is the student here.  Dr. Walts, we'd love for you to demonstrate you can at least execute at the level of a sixteen year old computer geek when constructing an intellectual argument in writing, otherwise whoever did this might actually be more qualified to do your job than you are.
That is, at least if they can improve their vocabulary a bit, but conceptually this is far better executed.
H/T: Gawker.
Tweet This
The opinions expressed here are solely the views of the author, and not representative of the position of any organization, political party, doughnut shop, knitting guild, or waste recycling facility, but may be correctly attributed to the Vast Right-Wing Conspiracy. If anything in the above article has offended you, please click here to receive an immediate apology.
You can follow the discussion through the Comments feed. You can also pingback or trackback from your own site.
3 Comments



I might have eschewed the racist rhetoric, and spelled better, but your point is well taken.

A brilliantly-executed childhood prank. Hope the perpetrator doesn't get caught.




The "leadership" at the Kelly Building, you mean. I wish I were astonished at the tone of the non-apology.




Apparently the "leadership" at the schools is trying to deny this ever happened, most likely because their wildly expensive and utterly underwhelming IT system lacks any ability to capture forensic data on a breach. It makes it a lot easier for the kids that did this to get off scott-free, because you can't charge people for a crime that you claim never happened.

I will be amused when I see an additional line item in next year's budget to address some extremely serious, recently discovered vulnerability in their IT security that suddenly has become a top priority. Despite there being no publicly admitted discussion about such vulnerabilities, of course.

Apparently there are cases when people in the Kelly Building actually feel embarrassment. I suppose it's a start.
Leave a Reply
Views: 1497